RL Custom Homes of Brevard also builds outdoor decks, patios, outdoor kitchens and walkways. If your beachside Brevard home is without an outdoor living area, we can make it happen.

Whether you have a design plan or just an idea in your head we can bring it to life. For over 35 years we have offered outdoor construction of beautifully coordinated stone, wood and metal projects. If you like to entertain, and who doesn't here in Florida, we can put together an outdoor kitchen that both fits your yard space and your budget.

We are experienced in both residential, commercial, and resort deck construction with numerous deck and outdoor living area projects to our credit. With an eye to function with decor and our years of Coastal Florida construction expertise we know you will love your new deck, walkway and gazebo additions.

We will work with you on your design requirements and Brevard County zoning issues, as well as any homeowner's association compliance issues to to insure you will be satisfied with the end result. Materials vary with each outdoor structure or project, we know what holds up best here in Florida so you can enjoy your outdoor living space for a long time. Wood decks, gates, deck railings, composite material decks, gazebos, trellis, fences and other outdoor wood or stone structures.
Example of an Outdoor Construction Project Process
Design Phase
We meet with you and discuss the basic concept, time frame and budget. As well as your requirements and those of the local Brevard city or county codes.

Material and Labor Cost
Once we have all the requirements of your projects, we will present you with a written estimate and conditions for your approval.

Construction Phase
Once all plans, permits and project issues are secured we will start construction. Footings for the deck are put into place, and all ground work is done in preparation of the framing and flooring of the deck or outdoors structure. Once the main components are finished we then start the detail touches and any paint or staining that is to be done.

Outdoor decks are very popular in Brevard County for many reasons.
They add to the value of your residence for a relatively inexpensive cost.
They provide additional living space for entertainment or your own personal enjoy.
And, since the construction is mostly outdoors there is no disruption to your daily life.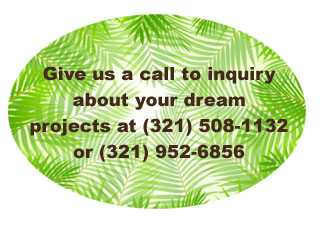 License Number CRC1326579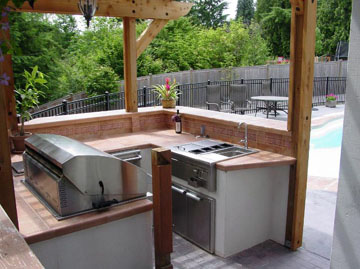 Beautiful Melbourne Beach outdoor kitchen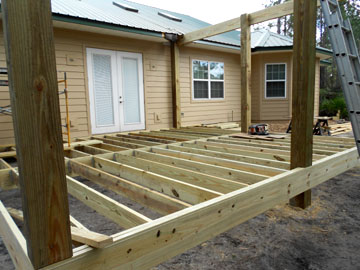 From the ground up, this project in riverside Rockledge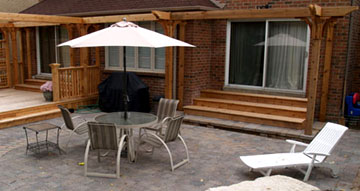 This Indialantic patio combines stone and wood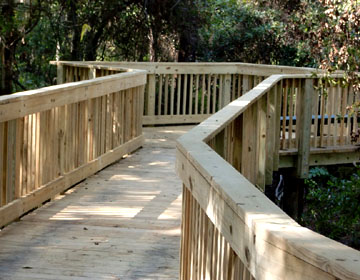 Satellite Beach sub-division wooden walkway project